Al Borealis, End of 2020 Show |479|
Al Borealis, this time we actually do an end of year show.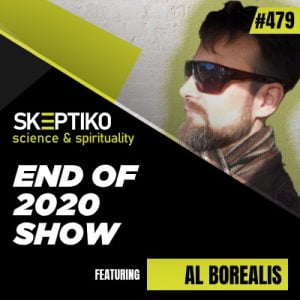 Okay. I know I'm a little late in getting the end of year show out.
It was supposed to come out last week, but Al and I got so wrapped up in another discussion that it didn't come out.
So what better way to kick off an end of year new year's show Then with a good old fashion from comm clip.
Ah, come on, man. You know, that's not gonna work. Here's a clip from my interview with Al Borealis.
Alex Tsakiris:
[00:00:39] Here's a good one for you. What topic do you feel? Was left unfinished for you that you plan on finishing in 2021,
Al Borealis:
[00:00:49] In known history, there's never been one incident that has affected the whole goddamn globe. I mean, go back to the black, right. Go back to the black plague. There was one corner of earth where, you know, you could be like, no, no, I'm an enlightened Buddha.
I'm just sitting here in my cave doing my own thing. I don't care what's going on. And Maya Ellucian globe. But now it's like if the earth was like 50 different video games, all sorts, you know, from seems to axis and allies to all sorts of video games in one Now it's like the whole earth is forced into becoming one big video game.
Alex Tsakiris:
[00:01:30] Let me just roll into it. So I, you know, my understanding of what we're going to do here and which I think is really going to be fun. And a great idea is the classic kind of end of year. Wrap-up where we each look at.
Some of our shows that most kind of inspired us or changed us, or it changed us in some way from, uh, 2020. So this is going to be fun. Right?