Bernardo Kastrup, Mainstreaming Controversial Philosophy of Mind Theories |378|
Share
Tweet
SHARES0

Dr. Bernardo Kastrup on the growing acceptance of his controversial theories of consciousness.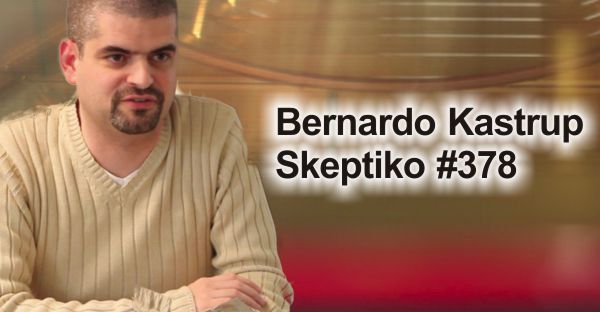 photo by: Skeptiko
Today we welcome
Dr. Bernardo Kastrup
back to Skeptiko. Bernardo is the author of several books on consciousness and has created quite a stir with his
recent articles in Scientific American:
Alex Tsakiris:
These people will be recognized by people in my community as skeptics or as materialists, but these people are just generally regarded as scientists, as mainstream scientists. We're talking about Richard Dawkins, Lawrence Krauss, Neil deGrasse Tyson. Neil deGrasse Tyson, whether we like it or not, is the face of science for many, many, many Americans, so let's see what mainstream science has to say about consciousness.
Here we go, I'm going to play this clip. You can see it there, I'm going to play it.
Richard Dawkins:
But you can say something about the question which you really would wish to know the answer to, and for me it would be, what's consciousness, because that's totally baffling.
Neil de Grasse Tyson:
Richard, you know what I think, not that you ask, but what I think on this is, consciousness has, kind of, baffled us for a while and evidence that we haven't a clue about what consciousness is, is drawn from the fact of, how many books are published on the topic. We're not really continuing to publish books, not really, on Newtonian physics, it's done. So, the fact that people keep publishing books on consciousness is the evidence we don't know anything about, because if we knew all about it, you wouldn't have to keep publishing.
So, what I wonder, what I wonder Richard is, whether there really is no such thing as consciousness at all and that there's some other understanding of the functioning of the human brain that renders that question obsolete.
Bill Nye:
To that I've got to say like, oh wow!
Alex Tsakiris:
I'm laughing, but what is so funny about that.
Bernardo Kastrup:
The idea that maybe consciousness is not there is probably the weirdest, stupidest idea every conceived by human thought. I mean, where does thought take place? It takes place in consciousness. So, here we have consciousness, speculating about the possibility that consciousness does not exist and it may not be there. I mean, the very thought is an in your face contradiction and the fact that something like this is not only seriously entertained, but even verbalized with a public with the public exposure of the gentleman we just saw, is a worrying sign of cultural sickness, a very serious one.