Bruce Fenton on UFO/ET Contact 780,000 Years Ago |458|
by
Alex Tsakiris
| Jul 28 |
Others
Share
Tweet
0SHARES

Bruce Fenton's shamanic experience sent him looking for scientific proof of ancient alien contact… and he found it.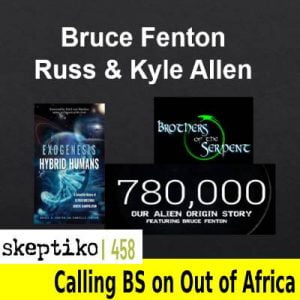 fina
photo by: Skeptiko
[Clip 00:00:00 – 00:00:53]
That's a clip from a little Skeptiko movie project episode, kind of experiment that I put together with Bruce Fenton, who you'll hear from today, and Sean Fahey who was the guy who really did all the work behind it. Although Bruce and Danny did a lot of the work too. Anyways, I am so excited about Bruce's work and always have been, and the last interview we did, I thought was just terrific.
And then I ran into The Snake Brothers, Russ and Kyle Allen of Brothers of the Serpent podcast, and I kind of got them interested in it, and they're interested in doing a series of interviews on this topic.
So as kind of a way of launching that little project, I invited everybody here on Skeptiko and here's what we came up with.
Last edited: