Charlie Morely, Why His
Buddhist
Teacher Told Him to Dream Into Hell |455|
by
Alex Tsakiris
| Jul 8 |
Spirituality
Share
Tweet
0SHARES

Charlie Morely is an expert at lucid dreaming, and he's gone places most wouldn't dare to go.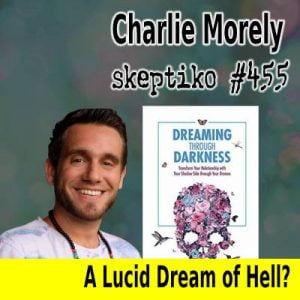 photo by: Skeptiko
[Clip 00:00:00- 00:00:34]
That's from Inception, a movie that explores a lot of the topics we're going to be talking about today, in terms of dreaming, lucid dreaming, the extended consciousness realms of dreaming and what those might mean for how we could engineer or explore those with various kinds of technology.
Our guest today is lucid dream expert Charlie Morley, and I'm also joined by Richard Cox from The Deep State Consciousness podcast.
Here's a clip.
Charlie Morley:
[00:01:03] When he was watching one of these people in the lucid dream trying to prove lucid dreaming, at one point he saw their eyes flicking left, right, left, right. Really kind of synchronous. And he woke them up and said, "What were you dreaming about?" And they said, "Oh, I was dreaming about a tennis match." And he was like, "Oh, that's cool." So he made the first discovery. The eyes physically correspond to what you're dreaming about.
So then he thought, "Okay, right, so maybe I can send a signal, kind of a Morse code signal from the lucid dream state to the waking state saying, "Hey guys, I'm in here. I'm doing the test, and I'm doing the experiment." And he managed to do that.
And I said, "So how did it work?" and he said, "I spent eight hours looking at this," he said, "suddenly on the paper it went 'dun, dun, dun, dun'." And I said to him, "How did it feel when you saw those eye movements come through?" And he was really sweet, he went, "Charlie, you know those movies, when they're in the NASA control room and they finally get the thing from Mars and they all give each other high fives," I said, "Yeah," and he went, "It was like that, but I had no one to high five. And I kind of leant over and gave him… we actually missed, we had this awkward missed high five, and he went, "Oh well, 40 years too late, but thank you."
I wanted to say about entities. Because I realized, I gave you the Jungian view on entities. I gave the Buddhist view on entities. I didn't actually give you my personal view on entities. Which is like, yeah, man, anyone who's had a DMT experience or moving into, kind of, psilocybin therapy, or ayahuasca or something, these are not internally generated experiences. Like, when people are all having the same experience of mother ayahuasca coming over to them and she appears in the same way and often is offering the same guidance, you're thinking, this is existing dude
.