Chris Knowles, The Descent Into Evil Thinking |450|
by
Alex Tsakiris
| Jun 2 |
Parapsychology
,
Spirituality
Share
Tweet
0SHARES

Chris Knowles explores the dark side of deep state dabbling with extended consciousness.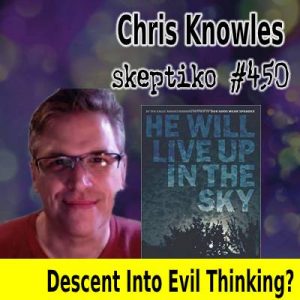 photo by: Skeptiko
(movie clip)
Alex Tsakiris:
[00:00:21] That's Walt from Breaking Bad finally coming to grips with the fact that his dissent into evil maybe wasn't for the altruistic reasons he had told himself. It's a topic we talk quite a bit about with today's guest, the oh so excellent Chris Knowles.
To me, that speaks so much to these super patriot spooks and spies who want to tell us that they're doing it all for us or for their country or for some other reason.
Chris Knowles:
[00:00:57] It's interesting you brought this up because this is something I've been thinking quite a bit about, and I think that the descent into evil, into evil thinking, it goes in steps, it's sort of like an initiatory process, so to speak.
You're dealing with powers that are much greater than yourself, and it's really delusional to think that you have anything to bargain for.
If you could summon a creature that's powerful enough to change your life or to curse somebody or whatever you think you want, what do you have to offer them?