David Ditchfield's Near-Death Experience Turned Him Into an Artist and Composer |453|
by
Alex Tsakiris
| Jun 23 |
Near-Death Experience
Share
Tweet
0SHARES

David Ditchfield was pulled under a speeding commuter train, but the spiritual encounters of his NDE left him with new artistic gifts.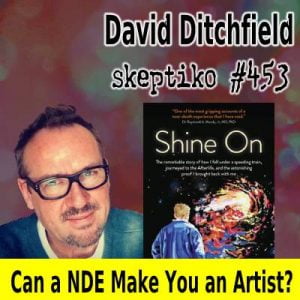 photo by: Skeptiko
[Movie clip 00:00:00 – 00:00:43]
That's Shia LeBeouf from the movie Fury, talking about the mixed feelings that come with being "chosen." I thought it was a good fit for my interview with David Ditchfield who had a rather remarkable near-death experience. I pushed David pretty hard on his Christian interpretation of the experience, but I think we settled on some interesting, deeper truths about being chosen.
Alex Tsakiris:
[00:01:12] I've interviewed people, David, who've had multiple near-death experiences, and they've said that they've gone deeper and subsequent ones, and the reality that they were at, gave way to a deeper reality and then a deeper reality beyond that. And they even speculate that there's almost no end to how deep or how high because it's all moving towards the light, moving towards God, moving towards love. How does that strike you?
David Ditchfield:
[00:01:38] Yes, I do, because as I said to you, I felt like I was being prepared for something to go on to another stage and I've realized now since my NDE that a lot of my teachings are still coming through now, it's almost like they sent me back and it's kind of, okay, so I'm back here now, but I didn't suddenly feel like, oh, man, I don't want to be back here. You know? Straight away I was thinking, right what's my purpose? Why have they sent it back?
Alex Tsakiris:
[00:02:04] Welcome to Skeptiko where we explore controversial science and spirituality with leading researchers, thinkers, and their critics. I'm your host Alex Tsakiris, and today we welcome David Ditchfield to Skeptiko. He's here to talk about a new book of his called Shine On, an amazing, remarkable near-death experience story that changed David's life in, well, a number of ways that we're going to talk about.
You know, we, we don't usually do stories on near-death experience accounts, but David has a lot more to talk about, in terms of the near-death experience in general. And also, I think there's some interesting kind of subtle cultural differences between the UK and the U S and how we all think about near-death experience.
So David, I think we'll have a good discussion. Thanks for joining me today.
David Ditchfield:
[00:03:10] Oh, thanks for having me along. Good to meet you, Alex.