Dr. Bernardo Kastrup, What Split Personality Tells Us About Consciousness |461|
by
Alex Tsakiris
| Aug 25 |
Consciousness Science
Share
Tweet
0SHARES

Dr. Bernardo Kastrup, opens up about extended consciousness, dissociative identity, and angels and demons.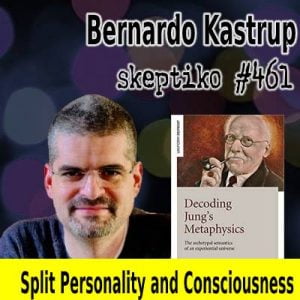 photo by: Skeptiko
[Clip 00:00:00 – 00:00:35]
That's a scene from the movie Split, which portrays a very extreme case of dissociative identity disorder, but that's just Hollywood, right?
Well consider today's interview with Dr. Bernardo Kastrup.
Dr. Bernardo Kastrup:
[00:00:34] Okay, suppose that universal consciousness has something akin to the DID. So it also forms alters. What would an altar look like from the point of view of another alter? I would say it will look like what we call life, a body, a metabolizing organism.
Alex Tsakiris:
[00:00:52] Hold on, that isn't exactly what I'm talking about, because you actually kind of pulled us into the water. So you just wrote a book on the metaphysics of Jung, right? Jungian metaphysics, something along those lines, right?
Dr. Bernardo Kastrup:
[00:01:03] Correct, yeah.
Alex Tsakiris:
[00:01:04] So Jung is talking about the shadow, he's saying, "Well, I work with clients, and we can kind of treat them just like they're separate, but they're really not." But then he switches over and he goes, "Yeah, but they are," and he's kind of saying both.
Dr. Bernardo Kastrup:
[00:01:18] That's right, yeah. I think if you study Jung's corpus carefully, it's pretty clear that that's what he thought. So from that perspective, it aligns with what some religious traditions would call disconnected personalities. Jung explicitly associated these dissociated complexes with what in the tradition has been called angels and demons.