Dr. Brian Hayden, Anthropology of Power and Evil |411|
by
Alex Tsakiris
| May 21 |
Consciousness Research
,
Consciousness Science
,
Spirituality
Share
Tweet
0SHARES

Anthropologist Dr. Brian Hayden traces the long history of using supernatural claims to grab power.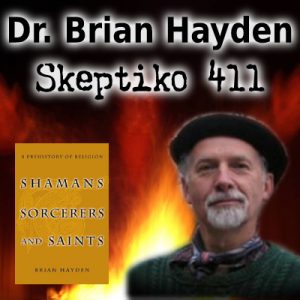 photo by: Skeptiko
Ladies and gentlemen of the jury, you have been witness to the unspeakable horrors of the defendant's heinous crimes.
That's a clip from the new Netflix movie about Ted Bundy.
For years I've carried this guilt that I'm to blame for everything.
And yeah, we're back to talking about the nature of evil.
It's been another missing girl, isn't it?
Ted, did you do it?
No.
Not because I'm drawn to it but because avoiding it may be missing an opportunity to more fully understand, what I keep calling this extended consciousness realm.
Now as it turns out, today's guest, the very excellent Dr Brian Hayden, has studied this evil, if you will, from a whole different perspective that traces it back to our earliest recorded history and what he's discovered may cause you to rethink everything you think you know about evil.
Alex Tsakiris:
Ted Bundy is back in the headlines through doing this big movie and everyone's excited about it.
Dr Brian Hayden:
Right.
Alex Tsakiris:
The secret story and Ted Bundy, if you really dig into it, satanic worship again, and then he meets other folks were going, "Yeah, I'm connected with these spiritual forces," and he is now trying to make this connection with the malevolent spiritual…
Dr Brian Hayden:
Yeah, but he's buying into a system that he feels is going to be able to let him do what he wants to do and that system, that conceptual system is really a product of secret societies and institutionalized religions. It didn't exist before that.
Alex Tsakiris:
Unless there's a reality to it, right?
Dr Brian Hayden:
Well, that's an open question. Is it one of our constructs, another self-serving construct of secret societies or is there any reality to it? And that is an open question.
Stay with me for my conversation with Dr Brian Hayden.