Dr. Diana Walsh Pasulka, American Cosmic's Breakaway Civilization |417|
by
Alex Tsakiris
| Jul 2 |
Consciousness Research
,
Consciousness Science
,
Others
,
Parapsychology
Share
Tweet
0SHARES

Dr. Diana Walsh Pasulka's stellar academic background didn't prepare her for Silicon Valley's billionaires and their breakaway civilization.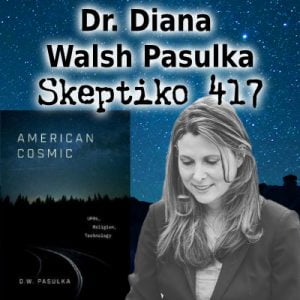 photo by: Skeptiko
Alex Tsakiris:
Today we welcome. Dr. Diana Walsh Pasulka to Skeptiko. In 2012 today's guest was at a high point in her career, a well-respected Professor of Religious Studies at the University of North Carolina, Wilmington, research awards, a successful book with Oxford University Press. She had even gained tenure, which as we all know is almost impossible to do these days.
Then Diana the universe winked at you, didn't it? A colleague noted that your account of a Catholic saint and her encounter with an angel sounded a lot like a UFO story that led you to a UFO conference. You met the amazing Chris Bledsoe, who told you about his encounter with ETs that seemed more technological than biological.
Next, you're off to a UFO conference in California where you just happen to land a personal tour of your old hometown, Silicon Valley with none other than Jacques Vallée.
So, quite a journey and that really set you off on this six-year journey taking you from your academic religious conferences with our friend Jeff Kripal at Rice University to harvesting space junk from secret crashed UFOs in the New Mexico desert and with Silicon Valley meta experiencers who don't think twice about ordering a thousand-dollar lunch from the Ritz and hopping on a private jet like an Uber and ultimately back to your roots in the deepest walls of the library of the Vatican.