Dr. Donald Hoffman, Materialism's Final Death Blow? |436|
by
Alex Tsakiris
| Jan 7 |
Consciousness Research
,
Consciousness Science

Dr. Donald Hoffman has proposed a rigorous mathematical model of consciousness that leaves materialism out of the equation.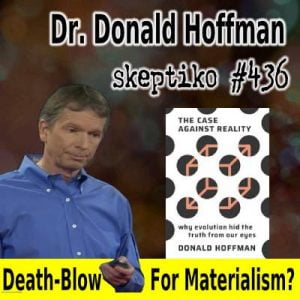 photo by: Skeptiko
I have an interview coming up in a minute with Dr. Donald Hoffman, who is, well, he's a really, really smart University of California Irvine professor, known for his work in consciousness and known for being the first guy to propose a truly rigorous mathematical model for understanding consciousness. Here's a clip.
Alex Tsakiris:
[00:00:26] Are we preparing for another version of shut up and calculate?
Dr. Donald Hoffman:
[00:00:32] So one reason why scientists do mathematical theories is because they surprise us, they become smarter than us, and eventually we become the students of the theory.
I do agree that consciousness is the fundamental reality and that it transcends any of our theories and getting a direct connection with that conscious experience is very, very important. I actually spend time every day in meditation doing exactly that.
Alex Tsakiris:
[00:01:02] And stick around after the interview for some analysis with me and Dr. Rich Grego:
Dr. Rich Grego:
[00:01:07] Everybody has their metaphysical interpretation of the math and they have math that backs up their interpretation, but the math isn't the interpretation.