Dr. Gayle Kimball Explores the Mysteries of Frontier Science |466|
by
Alex Tsakiris
| Oct 6 |
Consciousness Science
,
Skepticism
Share
Tweet
0SHARES

Dr. Gayle Kimball has interviewed leading scientists and thinkers to understand the frontier beyond the mainstream.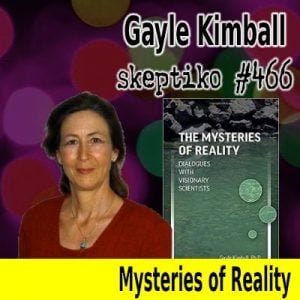 photo by: Skeptiko
That's a clip from the Netflix series Mrs. America, a fictionalized account of Gloria Steinem's role in The Women's Movement. This is a topic I've touched on a couple of times in this show, and I probably way over did it in this episode with the very excellent Dr. Gayle Kimball. But I think this idea of being able to understand how PSYOPs might change the way we look at everything, including our current understanding of consciousness, needs to be the starting point for so many of the conversations we have on Skeptiko.
Here's a clip from the upcoming interview.
Dr. Gayle Kimball:
[00:01:00] So if you're asking me, do I think there's a PSYOP, all I can say is I don't have enough information to know. I can't tell you, yes, I believe in it, because I don't know who it is that these mysterious manipulators are.
Alex Tsakiris:
[00:01:17] I'm inviting you to push back as hard as you can on this, destroy the narrative that I just laid out, destroy the narrative, that Gloria Steinem was a lifetime CIA player. Because the answer you gave me in the email, Gayle, it was inadequate. It was the opposite of everything we should be about, because what you said was, "I don't care because she did a lot of good things." We must never succumb to, "I don't care about the manipulators. I don't care how I'm being controlled. I only care about what they give me at the end."