Dr. Mark Pitstick After Death Communication Shatters Materialism |468|
by
Alex Tsakiris
| Oct 20 |
Consciousness Research
Share
Tweet
0SHARES

Dr. Mark Pitstick and Dr. Gary Schwartz have done breakthrough science, so why all the "soul phone" chatter?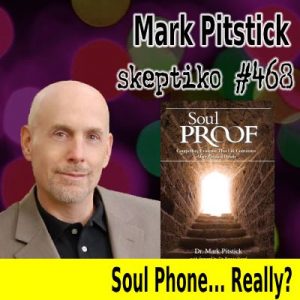 photo by: Skeptiko
[Clip 00:00:00 – 00:00:16]
That's a scene from the movie Ouija: Origins of Evil where the family is gathering around the Ouija board and get some rather unexpected results. It's a cautionary tale that seems to fit with today's interview with Dr. Mark Pitstick, who along with Dr. Gary Schwartz from the University of Arizona, have designed, patented and are marketing the SoulPhone.
Here's a clip from the interview and stick around after the show for the one question I have on this one is interesting, and I think it's one I really, really like to get input on. So if you do stick around to the end, let me know what you think. Okay. Here goes the interview.
Dr. Mark Pitstick:
[00:01:05] First of all, people need to understand that the research of Dr. Schwartz at the University of Arizona is, as far as we know, the only truly scientific, replicated, controlled, double blind, all of that that I mentioned, research being done. The others, you mentioned are mediumistic research and some mediums are rock stars. That was how Dr. Schwartz got into this area after he left Yale and came to the University of Arizona 20 some years ago, documenting that some mediums are very highly evidential, but again, some of those have bad days, make mistakes, etc.
Alex Tsakiris:
[00:01:43] But Mark, I mean, the problems here are almost too many to even start with. Why do you think you can open up the door and say, "Trust us, we know what we're doing. We talked to the A team, and by the way, the A team includes Michael Jackson," you know, the Jesus juice, reach around pedophile, Michael Jackson, he's on the A team, right?