Dr. Robert Davis, What Peak Experiences Reveal About Consciousness |419|
by
Alex Tsakiris
| Jul 16 |
Consciousness Research
,
Consciousness Science
,
Others
,
Spirituality
Share
Tweet
0SHARES

Dr. Robert Davis' research into peak experiences reveals multiple paths to extended consciousness realms.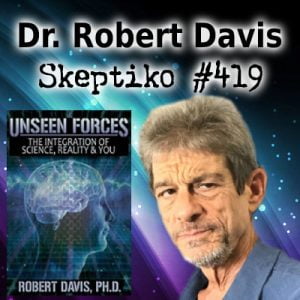 photo by: Skeptiko
Alex Tsakiris:
Today we welcome Dr Robert Davis to Skeptiko. Bob is an internationally recognized expert in the field of sensory neuroscience. I was just browsing his curriculum vitae before we talked here and way beyond my comprehension, but I have to take it for what it's worth. He's a guy who's had a stellar academic career, all the usual stuff, articles in scholarly papers, NIH grants, called to conferences to speak, all of this stuff.
And then, like we like to say on Skeptiko, you know, the universe knocked more or less. Bob and his wife had a rather lengthy UFO sighting a few years back that led to his first book, The UFO Phenomenon. Then he had a rather remarkable shared near-death experience or shared death experience, I should say, if you know what that is, leading to his second book, Life After Death.
And to top it all off, he has this rather remarkable Kundalini experience, a peak experience that more or less leads to his third book, and one that we're going to talk a lot about today, Unseen Forces: The Integration of Science, Reality and You.