Greg Moffitt, the Placebo Effect is Consciousness |477|
by
Alex Tsakiris
| Dec 15 |
Consciousness Science
Share
Tweet

Greg Moffitt explores the placebo effect and evil science.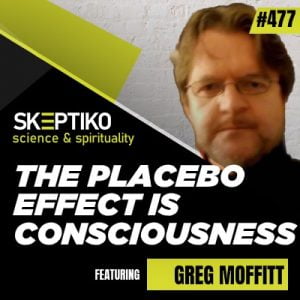 Listen Now:
Audio Player
0
Alex Tsakiris:
[00:00:00] Greg, we just wrapped up our interview and I thought we had an awesome conversation. I wanted to share it with the Skeptiko audience. We did part one and we're going to do a part two and I'd love to share both parts with them. So as a way of an introduction because we didn't really plan on completely doing it that way as kind of a swap cast kind of thing. Can you let people know a little bit more about, you know, who is Greg Moffitt, your background and what you do.
Greg Moffitt:
[00:00:28] Just to keep it brief, Alex, if people go to legalize dash freedom.com, you can spell legalize with an S or a Z, they'll find a bio there and that's where I host most of my current work. Podcasts I've been doing since 2012. Over 300 shows there,Inquiry into Life, The Universe and everything If people are familiar with Skeptico, I think they'll find a lot to interest in there. There's also a series of free articles and yeah, so legalize dash freedom.com with an S if you're in Europe with a Z if you're in the US. That's about it, I think. Hello and welcome Alex and thank you so much for joining us today on legalize freedom com.