John Brisson, Fix Your Gut Health and Slide-rule Science |394|
Share
Tweet

John Brisson on how to regain health by fixing your gut.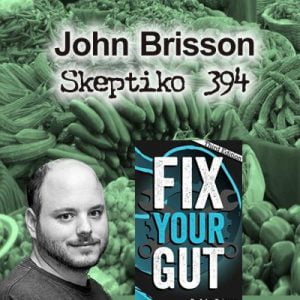 photo by: Skeptiko
Alex Tsakiris:
Today we welcome
John Brisson
to Skeptiko. John is the author of
Fix Your Gut: The Definitive Guide to Digestive Disorders
and although that might not seem like a natural fit with some of the topics we cover here on Skeptiko, I can tell you that after listening to many hours of interviews with John, reading his excellent book and even hiring to do a consult with a member of my family… I can tell you you're in for a treat.
John Brisson:
Thank you for having me Alex. I'm a huge fan of the show, I love what you do at Skeptiko. I've enjoyed many of your interviews, especially when you ask the tough questions like asking Jim Marrs point blank if he was a Scientologist.
—-
Alex Tsakiris:
Dr. Andrew Weil… [taught] medical his students (paraphrasing), "Go to the library and look at any major study of a life-threatening illness, and look for cases of spontaneous healing… you'll find them under the category of 'placebo affect' or whatever, but in every one of those studies you'll find spontaneous healing."
Well, what are we saying there? We don't understand what the hell happened. These are people in the control group who didn't get any treatment, who weren't supposed to get any better, who got better. So, it's holding these two things at the same time, because John… I'm doing all of this stuff to improve my chances for experiencing the best life I can, at the same time, I'm humbled by the thought of, "who am I really" and what is my larger connection to consciousness, what is my larger spirituality?
John Brisson:
I agree, that's why I'm not 100% for things that can be explained logically and I'm not 100% for things that are strictly spiritual either. I'm kind of a mixture in the middle and some people hate that. "With a lot of my beliefs I'm kind of thinking both sides are necessary.