Joseph Atwill, Why the Bible is Pro-Roman |464|
by
Alex Tsakiris
| Sep 22 |
Skepticism
Share
Tweet
0SHARES

Joseph Atwill's insights about the relationship between power and religion seem more relevant than ever.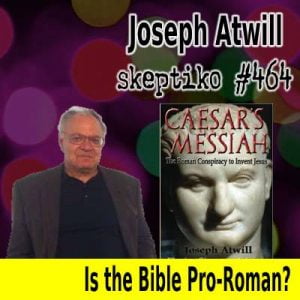 photo by: Skeptiko
[Clip 00:00:00 – 00:00:31]
That's a clip from Gladiator, and although the movie is fiction, people who really know Roman history, like today's guest Joseph Atwill, will tell you that the movie is spot on when it comes to the kind of political manipulation, mind control and conspiracy wielding that the Romans had mastered 2000 years ago.
Of course, this movie has another side to it, a very deep interpersonal family and spiritual angle to it, which, as we all know, plays a much greater role in the rough and tumble world of world politics and social engineering. I love this next piece.
[Clip 00:01:17 – 00:01:27]
Today's guest on Skeptiko, Joseph Atwill, author of Caesar's Messiah, has become a real cornerstone in my understanding of how we should approach so many of the deepest, most important questions about religion and spirituality, well, from a Skeptiko perspective at least. At any rate, it was so great to reconnect with Joe and be reminded how especially relevant his work is today.
Joseph Atwill:
[00:01:55] Yeah, I actually am quite, intrigued and supportive of your perspective on consciousness because of its political aspect. And, of course, given my background, obviously the first thing I'm looking at is how are our ideas about ourselves manipulated politically? Have we been basically given an idea about our consciousness that is untrue, just so that we can be more easily ruled? And the idea that we are an illusion is, in my mind, a decadent political position. And it's not even worthwhile discussing in terms of it as spirituality, because you already have this enormous problem, that if you think of yourself as an illusion, if you think of life as something that is absurd or meaningless, then you basically don't have the right kind of resiliency, in terms of coherent political perspective.