Joshua Cutchin, From Bigfoot to Extended Consciousness |418|
by
Alex Tsakiris
| Jul 9 |
Consciousness Research
,
Parapsychology
,
Spirituality
Share
Tweet
0SHARES

Joshua Cutchin's massive collection of Bigfoot cases points to an extended consciousness phenomenon.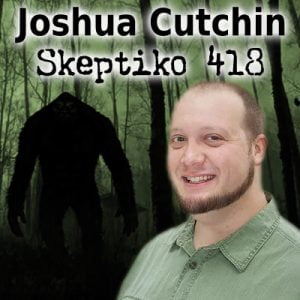 photo by: Skeptiko
Alex Tsakiris:
Today we welcome the fantastic Joshua Cutchin to Skeptiko. Josh is a really remarkable researcher and author known for his insanely well-researched books, I've thrown a few of them up there on the screen, and on his just vast knowledge of all aspects of the paranormal. This guy, as you'll find out as we do this show, is kind of a walking casebook of paranormal cases and you seem to be able to access those deep into your online database there at a moment's notice, which is so fun.
This interview is long overdue. I really wanted to have you on last year to talk about your book, Thieves in the Night, an amazing book. I was late to the party, maybe we can talk a little bit about that. I know you have a new book coming out on Bigfoot and I want to make sure we talk about that. I mainly just wanted to get you on because I just so admire your work. So thanks for coming on, great to talk to you.
Joshua Cutchin:
Well, thanks for the kind words. I genuinely appreciate it as someone who has listened to Skeptiko for a long time. It means a lot to live out this sort of surreal life where your hobbies and your real life sort of get mixed together. So I really appreciate it. Thank you.
Alex Tsakiris:
Yeah, that is a whole funny thing isn't it, because that's really how we both are? I don't want to spend a lot of time going into that because we're both kind of pressed today, but that'd be a great topic for another conversation, is how we got into this and then again, like you just said, I totally relate, living out this kind of surreal kind of, "Am I really talking to this person?" I mean, that's the sense I get every time. Last week I was talking to Dr Diana Pasulka and I was like, "Wow! This is fantastic."
But the purpose for your visit today is to play Skeptiko Jeopardy, a new idea that I just invented, and you know what, this is going to be good because this is really going to move us along quickly, which we both need.
There I have nine topics up on the screen, Bigfoot, The Pope, NDEs Versus Abductions, Creating Reality, really co-creating reality, Time and Space, Pan-Paranormal, that's who you are, Drip, Drip, Drip, Left-Hand Path and God.
So Josh, you get to pick and then we get to talk.
Joshua Cutchin:
Well this is so predictable given where I am in my life, but it's just where my head space is. I'll take Bigfoot for a hundred Alex.