Jurgen Ziewe is bringing Virtual Reality to the Spiritual Experience |465|
by
Alex Tsakiris
| Sep 29 |
Consciousness Research
Share
Tweet
0SHARES

Jurgen Ziewe is bringing virtual reality technology to his experiences as an out of body traveler.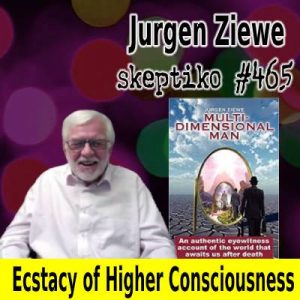 photo by: Skeptiko
[Clip 00:00:00 – 00:00:19]
That's from the movie The Shack, which does a pretty good job of exploring the interplay between, consensus reality and the impossible to understand extended reality that seems to pop up now and then. It's a topic that I explored with the extraordinary astral traveler, Jurgen Ziewe. Here are a couple of clips.
Jurgen Ziewe:
[00:00:51] I was at that time painting taught by a Vienna surrealist, that went on really well. But than one night I had an extreme experience, like a poltergeist thing, I had this picture of a demon on my easel and it fell off, and not only that, but an ashtray which was next to it was catapulted across the room. At that time I just didn't believe in anything supernatural and anything like that was totally out of my realm.
I stood at the shore of an ocean and the waves crashing in towards me were made out of light, and each light, each wave that came to me was a revelation, was offering a higher state of consciousness. And all time this was happening, I was in a state of total ecstasy. And every time a new wave came crushing in on me there was another revelation, not just a revelation, but an even higher state of consciousness.