Mark Gober, Dispelling Upside Down Thinking in Favor of Extended Consciousness |420|
by
Alex Tsakiris
| Jul 23 |
Consciousness Research
,
Consciousness Science
,
Others
,
Spirituality
Share
Tweet
0SHARES

Mark Gober went from investment banking to writing a book that dives deep into consciousness anomalies.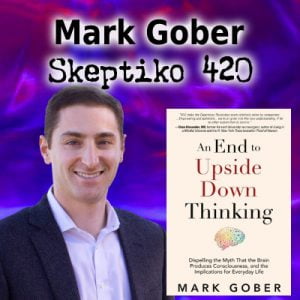 photo by: Skeptiko
Alex Tsakiris: Today we welcome Mark Gober to Skeptiko. Mark is a successful Silicon Valley venture capitalist and strategist turned author. He has a terrific book, An End to Upside Down Thinking, which is certainly right up our alley here on Skeptiko. Mark, thanks so much for joining me.
Mark Gober: Thank you for having me Alex.
Alex Tsakiris: So I met you through my friend Rick Archer who I can never give enough praise to for his very excellent show Buddha at the Gas Pump, which I think has really set the tone for so many of these questions about consciousness and transcending that consciousness, which your book is precursor to. I mean you have to at least be able to address the topics you're talking about, in terms of materialism and scientific materialism in particular, but I thought Rick did a great job and then I was super excited in this interview to kind of extend that and see where we might take that beyond that. So awesome.
Mark Gober: Sounds good.
Alex Tsakiris: So I like playing this little game that I call Skeptiko Jeopardy and I particularly like it in this case because as I mentioned, so many of the topics you've covered in your book, we've covered a million times on Skeptiko, a billion times with a million guests and a lot of the same people you've talked to as well.
So really, I think the cool thing about that is it's an opportunity to kind of move past that and dig into some of the deeper questions in terms of the implications of An End To Upside Down Thinking beyond the proof.