Matthew Alper, Have Skeptics Lost Their Edge? |448|
by
Alex Tsakiris
| May 12 |
Consciousness Science
,
Near-Death Experience
,
Skepticism
Share
Tweet
0SHARES

Matthew Alper wrote a best selling selling science book 10 years ago, and hasn't updated it since.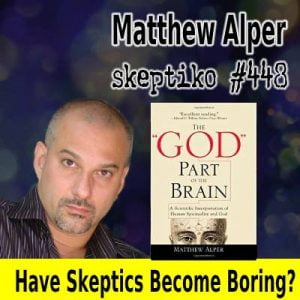 photo by: Skeptiko
Alex Tsakiris:
[00:00:00] Welcome to Skeptiko where we explore controversial science and spirituality with leading researchers, thinkers, and their critics. I'm your host, Alex Tsakiris and today we're joined by Matthew Alper, who a few years ago wrote a book, The "God" Part of the Brain. A book that received a tremendous amount of praise, was very well received and a lot of people liked it, especially a lot of really smart people like the ones that I'm showing up here on the screen. I was doing a radio interview the other day. Here's how this interview came about. There's this show, Midnight in the Desert, and I'm talking to the producer beforehand and she's telling me about this guy who came on the show and the host was so frustrated, the guy's an atheist and he's a skeptic, and he's so frustrated, they didn't even finish the interview. And I was like, "Man, this is my kind of guy, I need to talk to this guy."
Matthew Alper:
[00:01:00] Well, that's actually a nice way of saying that they hung up on me.
Alex Tsakiris:
So, as you know from listening to this show, folks who have listened to it. I love exchanging and a lot of ideas. I'm open to especially hashing out things with people who are coming at things from this kind of materialistic perspective, which is the dominant view within science. And this God part of the brain thing is something we've certainly talked about a ton on this show. So I thought it would be great to have you on and to kind of hash this out and to, go over this. So, Matthew, thanks so much for coming on. Can you tell us a little bit about yourself and more about the book, The "God" Part of the Brain? (continued below)