Rick DeLano's Terrific Quantum Science Film Tainted by Catholic Nonsense |454|
by
Alex Tsakiris
| Jun 30 |
Consciousness Science
Share
Tweet
0SHARES

Rick DeLano's movie, The End of Quantum Reality makes a strong case against scientific materialism, but then there's the Catholic thing.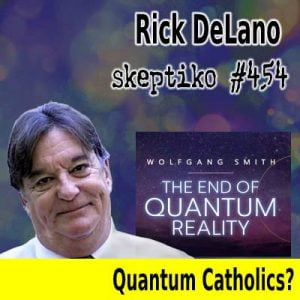 photo by: Skeptiko
[Clip 00:00:00- 00:00:34]
That's South Park talking about what it's like to go back to Catholic Church today. It has a connection with today's interview with Rick DeLano, who has a really outstanding new science movie out called The End of Quantum Reality, about the work of Dr. Wolfgang Smith. Well, the connection is that even though it's a great science film, with beautiful cinematography, I can't stop laughing about the Catholic thing.
Alex Tsakiris:
[00:01:01] You did a great job of educating us on something that we always know, and that is how solid quantum physics is, because one of the tricks that's been done here to get away from the philosophical implications of quantum physics, is to make it sound woo-woo or fluffy.
You just don't get it, Rick. I mean, you don't understand why non-Christians like me, are just stunned how any really bright, intelligent person that you are, can buy into such a wacky cosmology.
Rick DeLano:
[00:01:40] There is no remote point of congruence between the straw man on your screen and the actual content of Christian revelation. Any Christian knows that instantaneously.