Russ Dizdar, Are Christians Less Wrong About Ritual Abuse? |440|
by
Alex Tsakiris
| Feb 11 |
Spirituality
Share
Tweet
0SHARES

Russ Dizdar is ex-law-enforcement and has 30 years of boots-on-the-ground experience with satanic ritual abuse.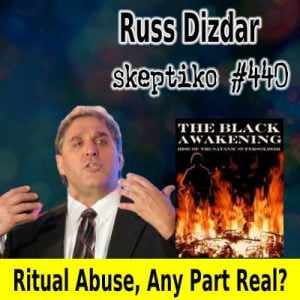 photo by: Skeptiko
I have an interview coming up in a minute with Russ Dizdar. This is going to be a tough one for a lot of folks for a lot of different reasons. Here are some clips.
Russ Dizdar:
[00:00:17] I was in Worthington, Ohio at the Police Academy called OPOTA, a law enforcement agent named Thomas Wedge, who wrote a book called The Satan Hunter for law enforcement. So I'm going through all of this, the very evening that I get home, I get a phone call from a frantic woman who said, "Somebody gave me your phone number. I have a stepdaughter that's in the psych ward. She's going to kill herself." She goes into all of the stories about satanic stuff and rituals and blood rituals and animals being sacrificed. I sat down with a 13 year old, she's there because she keeps writing over and over and over, "The ritual of the flames. The ritual of the flames. The ritual of the flames." When I finally got enough engagement with her to talk about it, she said it's a ritual that she has to do on her 14th birthday to prove her love for her mother, her mother, a satanic priestess.
So victim, this little girl, as I'm engaging here, began to have other personalities come up. Again, I'm a counselor, I'm trained, I'm in school, I'm trained to do things. I'm listening to this 13 year old and I'm listening to a male personality. Then I'm listening to another personality.
(later)
Alex Tsakiris:
[00:01:27] Why is that so hard to accept for most people? Moreover, why is it completely misrepresented in the media?
Russ Dizdar:
[00:01:38] I would say the first part of this is the issue of grid. When you talk about investigative journalists that I deal with, psychiatrists, police officers, feds, if it's not in your grid, in other words, if you're trying to deal with a MS-13, a gang, they're real, they're a real gang, they're a drug gang. They're in my city now, up here in Canton, Ohio. They have certain markings, certain hand signs, certain clothing. So there are certain characteristics about a real gang. So when we deal with satanic crimes, very little teaching on that subject.
(later)
Alex Tsakiris: [00:02:11] And I want to make sure we talk about MKUltra. You've thrown it out there. We've investigated it extensively on this show. It was in response to what they thought was a threat from Russia who was engaged in a lot of this activity. But there was also, as you point out, and I'm sure you will, there was a direct Nazi connection, where we had just picked up their research and said, "Gee, horrible thing that you've done, but let's see if we can do it better."
Russ Dizdar:
[00:02:41] Alex, you're a million percent right on that issue. When it comes to psywarriors, no question that the United States knew that they had to do something in the 50s to counteract what they learned about the Russians, what they were doing. What nobody was saying though… Step back, like you just did, step back another step. Where did the Russians get it? Where did the Americans get it? So, you do go back to the Nazis.
Alex Tsakiris:
[00:03:06] I mean, you don't have to go all the way there with the Nazis, but you can't deny that they were interested in the occult. You can't deny that those SS uniforms had the little skull and crossbones on them and that they were actively trying to seek all these occult objects in order to empower what they would do. Tell us what you saw and experienced when you were in the castle in Germany.
Russ Dizdar:
[00:03:30] Well, that was the whole issue, where did it come from? We kept following the trail, following the evidence. So, I'll say this real quick, modern day satanic ritual abuse is nothing less than the extension of the agenda of the master race that the Nazis started in 1939.