Sarah Westall, Trafficking/Blackmail Cycle of Evil |410|
by
Alex Tsakiris
| May 14 |
Skepticism
Share
Tweet
0SHARES

Investigative reporter Sarah Westall dives deep into the the insidious cycle of human trafficking, prostitution and human compromise.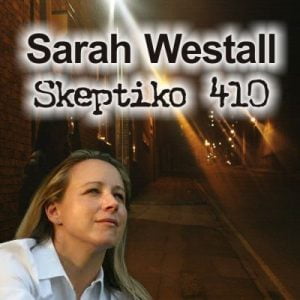 photo by: Skeptiko
(clip from the Sopranos)
Forget it, this game is not for you.
No, it's just, you know, I was thinking it would be a kick.
Davey, you're a nice guy, I like you, okay? But trust me, this game's not for you. I don't want to see you get hurt.
That's a scene from the Sopranos. Here Tony is luring his lifelong friend into a card game that he can't afford.
…You told me not to get in the game. Why do you let me do it?
Well, I knew you had this business here Davey, it's my nature. The frog and the scorpion, you know? Hey, you're not the first guy to get busted out. This is how a guy like me makes a living, this is my bread and butter.
Yeah, the scorpion and the frog, isn't that the way it is? I mean, some of us are just put here to exploit other people, that's what we do.
Sarah Westall:
…he ended up working for the New York Police Department. They brought him in and said, "Can you figure out what's going on with this prostitution problem that we have?"
So, he was put in charge of figuring out prostitution. He said it took him three weeks to figure out that everything we'd learned about prostitution was BS. Prostitution, at its core, is about human trafficking. The majority, 99% of them are forced to be there and if they don't do their work, the stuff that happens to them is really incredible.
Then he also talks about the human compromise, the human compromise at the very highest levels. Admirals in the military, CEOs, people running for president.
Alex
Tsakiris: So compromise… I get a prostitute thing, and when I say prostitute, that may conjures up the wrong image, because in some cases, yes, it is some woman and we can imagine it like Pretty Woman in the movie [even though it's not], but in other cases we can't even pretend it's that.. when it's an 11-year-old boy or a 9-year-old girl, or all of these other really sick things that are out there.
But let's lump all of that together and [call it prositution], then we have some room in the back of an apartment that has a bunch of hidden cameras and microphones in it, the target is going to be lured back in there and then at the end of the day the person who was taping it, the person who has that stuff is going to go and knock on that guy's door and say, "Look what I've got, what are you going to do now?" Or, "I'll tell you what you're going to do now."
I've explored this topic before on Skeptiko, and I've always come at it more from the spiritual angle, in terms of the nature of evil Because the Crowleyan, Luciferian, "Do what thou wilt," fuzzy morality around evil never seemed very satisfying to me, and I wanted to approach the topic from that direction. What's interesting about today's show, with the extraordinary investigative journalist who you just heard, Sarah Westall, is that she takes us into the same evil from a different direction, the pragmatic, Tony Soprano, get things done perspective.
Sarah Westall is doing great work and I commend her for bravely covering this topic that is systematically and intentionally ignored by the mainstream media for reasons that are all too obvious.