Tim Grimes, Stop Thinking So Much, It Really Is an Option |482|
by
Alex Tsakiris
| Jan 21 |
Spirituality
Share
Tweet

Tim Grimes advice about not thinking is deeply spiritual and profoundly practical.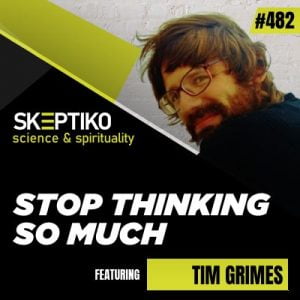 Listen Now:
Click here for Tim Grimes Radical Counselor website
Click here for Forum Discussion
Audio Clip:
[00:00:00] You're it , you're it , you're it! Quitsies , any quitsies , you're it , quitsies, no any quitsies no startsies you can't do that, can too ,standard, double standards no erasies, cannot, triple standard, no earasies, Oh..
Alex Tsakiris:
[00:00:13] Jim Carrey and Jeff Daniels know all about not being too serious. That of course is a clip from Dumb and Dumber. Today's guest is awesome. He's taking the idea of not being serious, and not thinking too much, and brought it to next level spirituality.
Audio Clip:
[00:00:37] And that's the truth I'm a mystic and I believe in nothing because when you have an experience like this, even if it's just for a split second, it just, you don't look at things the same way ever again. And there's all and I'm you know, now years later, I've just encountered teachers and teachings talking about this from different angles again and again saying the same thing in different words. We get lost in our head, and we get really serious about our spiritual journey. So this is what happened to me in my, my 20s basically, like after I had this experience, and then I had other, you know, quote unquote, mystical things that happened to me or whatever little strange experiences but you know, I lived, I went to Zen centers, I lived at a Zen center, you know, I got really into different self improvement teachings, all these things, you know, wasn't till I was almost 30 before I realized, I'm so full of shit. So what I would say is this, you can do these exercises and they'll make you feel better no matter what. But when I do them, what they're coming out of is like, alright, like now, like this is, let's see, like Gods here. So like physiological, oh you'll feel better and masturbate, have fun with that. It's like the law of attraction people. How do I get a bigger house? How do I make more money? I don't know. Shut up, stop thinking. Like I love you, you know, shut up and stop thinking.
Alex Tsakiris
:[00:02:07] Stick around for my interview with Tim Grimes. Welcome to Skeptiko, where we explore controversial science and spirituality, with leading researchers, thinkers and their critics. I'm your host, Alex Tsakiris and today we welcome Tim Grimes to Skeptiko. Tim is the author of a best selling book, it was the number one in its category. When I first found it on Amazon, the title is The Joy of Not Thinking, a radical approach to happiness. You know it was still number one when I went back and bought a copy for everybody in my family and sent it to them. And I honestly cannot tell you the last time that I did that with a book, if ever, but it's it's just short, succinct and it's amazing and it's great to have you here with us, Tim, thanks so much for joining me.