Tricia Barker, Life After Near Death Experience Ain't Always Easy |469|
by
Alex Tsakiris
| Oct 27 |
Near-Death Experience
Share
Tweet
0SHARES

Tricia Barker helps Near Death Experiencers deal with the gifts and challenges that come next.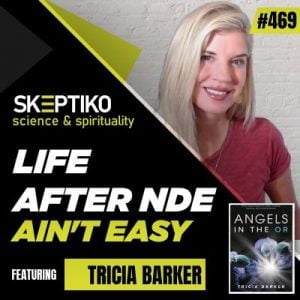 photo by: Skeptiko
[Clip 00:00:00 – 00:00:27]
That's from the movie Wonder Woman and I think we have somewhat of a wonder woman today. Tricia Barker has an amazing near-death experience to talk about, but she has so much more to talk about. This is one of those non-linear level three conversations that I so, so enjoy.
Tricia Barker:
[00:00:46] And I saw, quickly after that moment and this life review, how the things that mattered the most is when I was peaceful and happy in nature, when I was kind to others, and the thing that I needed to change were exactly those moments. The people that I worked with, who I judged, who actually went home and prayed for me. They were Catholic and they just included me in their prayers. And I thought, wow, their hearts are really lovely, they're just beautiful people, and it doesn't matter who they are, like look into the hearts of people, and create a kind environment wherever you go. Like, that may be the most important thing we do, wherever we work, wherever our feet hit the ground, if we're kind to people around us, then life is going to work better.
And I did not want to leave, that's when I was like, "Oh, broken body on that operating table. Why don't we forget about that and why don't I stay here where I can feel good?"
This voice said, "Look down," showed me a river and all these souls were covered with either light or darkness. And I knew this to be fear, the darkness was fear, the light was just a consciousness that was connected to God. So we either walk around in fear or we walk around connected to God. It seemed very simple, as if I could tell all the people who had darkness around them, "Hey, just connect to God. It's that simple."
(later)
Yeah. so I didn't really want to go here, but I guess I'll go here. We live in a porn saturated environment, and little kids are seeing violence as their first exposure, violence against women as their first exposure to porn. Does porn cause rape? No. But does a saturation of it and a continued saturation of it make people see people as objects? Yes. And so it's dehumanizing. So do Asian men get most of their pornography from the United States? Yes, they do. Are we not having enough conversations about what pornography is doing to the brain? You know, I think there's a lot of men who want to talk about it, who wants to say, "I want away from it to a degree, I want to real open tantric experience with a woman. I don't want to end up using virtual reality for the rest of my life and having sex with a screen."
Last edited: