William Ramsey, The Satanic Panic Head Fake |463|
by
Alex Tsakiris
| Sep 16 |
Spirituality
Share
Tweet
0SHARES

William Ramsey, this attorney turned investigative journalist and author has a unique perspective on satanic panic.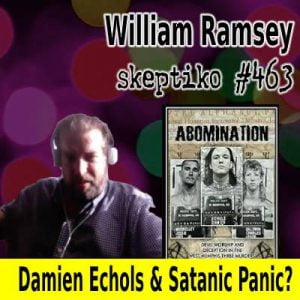 photo by: Skeptiko
[Clip 00:00:00 – 00:00:27]
That's Matthew McConaughey from The Lincoln Lawyer schooling his client on how the legal system really works. It's a topic that factors into this interview I have coming up with attorney an investigative journalist William Ramsey, quite prominently, especially when it comes to the case we're going to talk about, one of them, the West Memphis Three, and how it generated this ridiculous meme about satanic panic. Because as you'll hear, no matter what you feel about the legal proceedings surrounding Damien Echols and these crimes, there really should be no doubt that this is an individual that was deeply, deeply involved in satanic occult practices. And I say that, of course, because you've listened to this show with satanic being in quotes because we can't pigeonhole all this evil and hang it on one guy
Here's a clip from the upcoming interview with William Ramsey.
Alex Tsakiris:
[00:01:35] But he looks so innocent and harmless, but that's exactly the point I wanted to put on about the deception. He's caught with an outrageous lie there, right?
William Ramsey:
[00:01:46] Right, yeah. I mean, they caught him in a lie that he was writing like a secret script. I mean, the allegation is that he was obsessed with the occult, but they denied all that. But while he was in jail, what's he doing? He's writing the secret script that has Jason Baldwin's name and Aleister Crowley. And then he gets out, what's he do? He's right back writing books about magick with a K, and making all these very different interviews, he's quoting, he's talking about the moonlight, he's talking about rituals, he's tweeting about it. I mean, it's just incredible that people can actually be led on to think that that's not involved in this case.